Professional Make-up Artistry
£0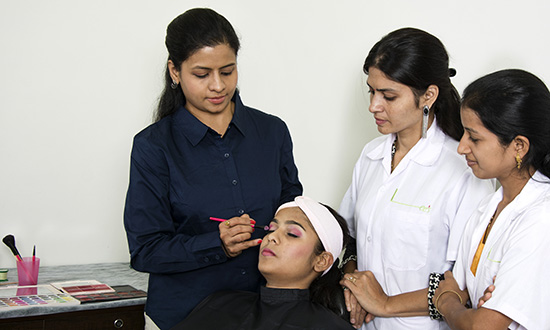 About this course
Skin types knowledge, purpose of make up, colour theory, product knowledge, Brush knowledge, Client consultation, Accurate selection of make up product as per skin type, Facial shapes knowledge, Shading and high lightening, Types of Make ups, False eyelash application, Product mixing techniques, Make up techniques – Different types Bridal make up, HD, 3D looks, Film, Stage, Dance, T. V. make up, Hair style techniques, Use of Hair extensions, Hair Styling product knowledge, Use of different stuff, net, Traditional styling, bollywood styling, International Hair styles, messy buns and choty, Different Choty types, How to handle extra silky hair, Sari Draping, Dupatta Draping .
What is International Lee's Beauty and Spa Institute's accreditation?
International Lee's Beauty and Spa Institute is India's leading beauty school accredited by CIDESCO, CIBTAC, B&WSSC, & ABTC. We are also affiliated with ABTC, B&WSSC, and CIBTAC.
What does a student get by successfully completing a course?
Any student who successfully completes the course will get a certificate from Lee's Beauty and Spa Institute as well as the affiliated institutes as per the course.
What are the career opportunities after completion of these courses?
We provide job opportunities to our students with the help of our placement department. There are numerous job opportunities in the beauty industry as well as students can start their own business with the knowledge and experience gained by the courses.
Is the hostel facility available?
We have a hostel in Pune on chargeable basis only for ladies
Is the loan facility available?
Yes, we provide loan assistance.* T&C Apply
Do you provide products and the kits for practicals?
Yes, Kits and the products provided will be on chargeable basis.
Do you provide installment facility?
Yes, we provide installment facility as per the course duration.
Do you provide notes?
We provide our own designed books written on beauty, body, hair and makeup syllabus.